| | | | | | |
| --- | --- | --- | --- | --- | --- |
| OEOHFPPE Miles: 14.00 | BIKE MILES Miles: 153.70 | Purple People Runners Miles: 38.25 | TTT #1 Miles: 58.20 | Inspire Yellow Racers Miles: 8.00 | Awesome Elixers Miles: 7.00 |
| | | | |
| --- | --- | --- | --- |
| Night Sleep Time: 0.00 | Nap Time: 0.00 | Total Sleep Time: 0.00 | Weight: 0.00 |
Mojo is gone. My legs still feel heavy and getting up in the morning is less and less appealing every day. Even Saturday wanting to do my lake run SO bad, I contemplated just bagging it and sleeping in multiple times. I need to find a way to take a break...without taking a break.
I did the bike ride with the Triple Threats this morning (Nancy, you should come sometime! we meet at Herriman HS at 6AM). I rode down to the school, because I figured I could get down there in about as much time as it would take to load up the bike, drive the 3 miles, unload the bike and get ready. Good climb up Rose Canyon - you can see the car that pulled off the road and started the fire!! Crazy! I'm honestly impressed with the small burn area, it could've been SO much worse, but it was contained and stopped quickly.
At the top a couple girls had stopped to fix a bike and the ones with me weren't going to do the Bacchus loop on the way home. So, I rode back down about a mile, caught the girls and rode back up with them. I got the 3 tough hills twice! At the top there was a group of guys and turns out a few of them were from the BBK's. Fun little 'run into'. Down the canyon, then we'd decided to do the loop, so I waited for the ladies, and we turned left onto Bacchus. Then at the top (7300W) I waited again...for 10 minutes! No ladies. I finally figured they must've turned around thinking they didn't have time. So, I busted through the last little bit of the hill, and enjoyed the downhill back to the HS...and then home.
Once at home, I asked my daughter if she wanted to go for a bike/run to practice for her tri on Saturday. She agreed. I had her do 3 loops around the school (3 miles) while I ran a mile with Lucy and the jogging stroller. Then we met back at home and she ran a mile with me. I headed out with the stroller for one last mile, but when I got back I told my baby "time to go inside" he said, "no, again" and pointed down the street. Man, I created a monster in that kid, he'd have had me run 20 miles if it was up to him. So, I did one more to make it 4.
Somewhere after the first 300yds of my 3rd mile my garmin lost satellites...what?!?! so, I don't have the last 2 miles so I have no idea how fast I was going. Whatever, just a good shake out.

| | |
| --- | --- |
| OEOHFPPE Miles: 4.00 | BIKE MILES Miles: 27.00 |
| | | | |
| --- | --- | --- | --- |
| Night Sleep Time: 0.00 | Nap Time: 0.00 | Total Sleep Time: 0.00 | Weight: 0.00 |
Comments(4)
I think running right now is all I can do. Speedwork just ain't happening!
Regular 10 mile loop with the Newtons, Paul finally came back to us...I knew he'd eventually see the light. George and Chad were cruising and I was just sitting back trying to not whine about it all. I wanted to go to the track and do some speedwork, but like I said...just getting the miles in is all I can do.
AP: 8:35 splits: 8:43, 8:38, 8:32, 8:44, 8:54, 8:39, 8:33, 8:08, 8:34, 8:25
Oh, picked up a smoke bomb on the road today. It was purple, my kids are gonna love me! Oh, and purple is my signature color :)

| | | | |
| --- | --- | --- | --- |
| Night Sleep Time: 0.00 | Nap Time: 0.00 | Total Sleep Time: 0.00 | Weight: 0.00 |
Comments(5)
Don't make me feel bad about this decision and tell me all the fun stuff you're doing today (running, biking, racing). I needed a day off. I'd like to see my mojo return sooner than later and I needed sleep after not getting to bed until 1AM trying to clean my house for a BBQ today.
Nothing, slept in and I'm playing with my family all day.

| | | | |
| --- | --- | --- | --- |
| Night Sleep Time: 0.00 | Nap Time: 0.00 | Total Sleep Time: 0.00 | Weight: 0.00 |
Comments(5)
Another slog through the miles. Even with my break yesterday everything still just felt like I was in slow motion and running through mud. I'm really sick of this...really sick of it. I want to feel good again and I want to feel like I WANT to run and enjoy it. poo.
Urban trail loop with the Newtons. A good crew this morning Chad, Paul, George, (no Ringo), Ronnie, Charles and James. I pulled the 'female' card today and the rest of the girls got to sleep in.
AP: 8:33 splits: 9:16 (wow, finally a 9!), 8:51 (this was up the hill..what the heck?), 8:32, 8:13, 8:24, 8:14, 8:29, 8:24. I guess I made up for that 9, but still.
Welcoming the rain! This morning it was SO hot and humid...I think Becca brought Texas home with her! :)

Purple People Runners Miles: 8.00
| | | | |
| --- | --- | --- | --- |
| Night Sleep Time: 0.00 | Nap Time: 0.00 | Total Sleep Time: 0.00 | Weight: 0.00 |
Comments(7)
Cub Scout Camp - I almost got up early to go running first. Fail.
| | | | |
| --- | --- | --- | --- |
| Night Sleep Time: 0.00 | Nap Time: 0.00 | Total Sleep Time: 0.00 | Weight: 0.00 |
Comments(1)
RHPC HALF!! We forgot how long a half was (and really wanted water at Vivian Park) so, we made it 15 instead.
Crazy, crazy, crazy day. Hubby didn't get home until 3:30 and asked me to be home as close to 9 as possible, because he needed to go back in then. Poo. So, I gave up riding with Kelli and went solo so I could bust out of there. On the way down I saw Chad pulled over on Center St in Orem. He'd gotten a flat, so we abandoned his car and I took him to Sasha's house.
We didn't get the run started until 6:30, but it was great to see everyone! Becca is now IN town - yippee!!! Smooth, Karen, Larry, Maynard, Lily, Rachelle, Kelli, Wendy, Heidi, Scott, Eric, and Amy.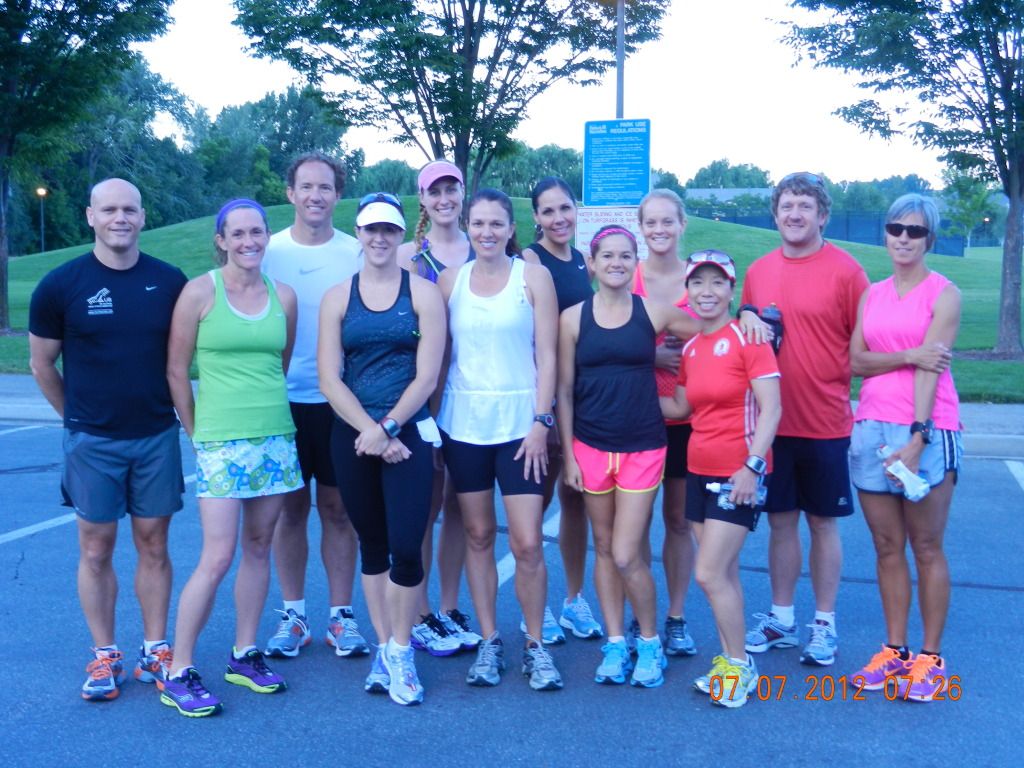 We took off at the sound of Maynard's gun, ran through the sprinklers and it was on - like Donkey Kong! I was just going to stick with Becca as long as I could. Rachelle and Lily were running our pace too, so we just had a fun little chatty group the whole way. Rachelle really killed us, pulling crazy up the canyon! That girl is rockin' the runnin' scene! I got to bang elbows with Lily as she cruised along with me in the back - that girl hasn't lost a step! I think I was the only one breathing so hard it chased all the boys away :)
The group decided to go to Vivian park (an extra mile-ish) to get water and bathrooms - totally worth the extra push. Then, we went down. Holy cow...speed pacers down the canyon! So much for taking it easy :) We passed a few others and Scott passed us (he also went to Vivian), then Sasha and crew blew by us like we were standing still! We saw Chad on our way up, so he didn't get the honor of passing us! :) We almost caught Kelli and Amy, but we decided to stop at the ever flowing fountain and drink/bathe in the water :) The last couple miles were sludging to the finish, for me.
Well, until I got a good boot of energy about a 1/4 mile from the finish. My son was supposed to be at the church for cub camp at 7:30 and Lauren had her tri that she needed to be there around 8 to get set up. It was 8:35 and my husband was calling me to tell me he was driving David up to Millcreek for camp. They'd slept in! Can't blame him after only being asleep for 4 hours, but shoot! He dropped Lauren off and so now she was at the Kids Tri all alone...no parent whatsoever, and then had to drive the 30+ miles up to camp, because the leaders thought since I wasn't going David wasn't so they didn't call to check. Poo, double poo. Then, here I was being a self-indulgent mother down in provo running and chatting with friends as my poor little family suffered. So, I sat around and ate and whined and took some picture then left - and dropped Becca off on the way home to get some extra chat time in. Hubby wasn't going into work at 9:00...so I now had time. I wasn't getting home to see Lauren's tri either way, I was just too far out at that point.
Now looking back everything was fine and turned out great, but I sure felt like a selfish runner trying to be a mom this morning. I think I called it when I talked to Kelli this morning and said "I probably shouldn't even come!" I knew something was amiss. I'm glad now though that it seems to be water under the bridge. My daughter may need to have a session or two on being left all alone at the tri with no support while every other kid had families there, but oh well...just add it to her tab already :)
I couldn't believe our AP when I saw it! Those girls are fast, no wonder I felt like I was done - they tricked me into running a tempo!
AP: 7:58 splits: 8:59, 8:21, 8:28, 8:15, 8:26, 8:27, 7:53, 7:50, 7:37, 7:20, 7:24, 7:32, 7:39, 7:42, 7:37, 6:17 (last 40 ft recorded...yeah, a little adrenaline never hurt!) - oh, I did notice my 1/2 split 1:45:00 - well, garmin said 13.15 at that point, but I figured with bad tanget running it was pretty accurate.

Some pics from after the run:
The Great passing of the Red Hot Pink Chick(en) - Kelli was nominated as the bearer for the next year!

The lone, brave Men in the chicks group (big welcome to newcomer Larry aka Prez Smooth)

The whole gang (minus a couple that had to jet...myself NOT included!):
Smooth Sandwich!! :) since 2009.

Kelli and her crew; Wendy and Heidi:
Kelli and her man! I think this is a really nice picture of both of them.
Smooth and Karen - love these gals!! Karen really needs to become a FRBer.
Did I mention Becca is back?!? She is freezing in this cold Utah weather...but I think she likes it :)
When I got home I picked up Lauren and was proud to see she'd taken 12th/26 in her AG. More behind than ahead...always good progress! Came home so hubby could finally get to work (2 hrs late) and then did yard work with the kiddos (lawn, weeds, garden) and cleaned out the garage. It has needed to be done for a LONG time! It is nice to have it cleaned out, oh and I moved all the heavy crap solo...so it counts as x-training :)
Have a wonderful weekend. I don't feel like I hate running as much as I have all week. I'm glad a good group run brought some mojo back...or maybe it was Becca.
Thanks to everyone who came out to support the RHPC run this year. It was meager and not as well organized as usual, but it was still great to get together for a wonderful run with amazing people! We really need to do this more than once a year. Oh, and I do have to say that my favorite comment today on the trail was a guy as we were going down and just after Sasha passed us was: "wow, everyone is SO fast on the trail today." I shouted back: "it's fastrunning day!" :)

| | | | |
| --- | --- | --- | --- |
| Night Sleep Time: 0.00 | Nap Time: 0.00 | Total Sleep Time: 0.00 | Weight: 0.00 |
Comments(10)
Well, all bike rides fell through this morning and I'm too much of a chicken to go by myself - I just know I'll die. So, I slept and waited for my running date with Becca. We should've gone earlier since I didn't have the bike to contend with, but hey - I need some heat training...right?
We started about 8:15 and it was already hot so the choice to go up and down Rose Canyon probably wasn't the best one. But, oh well - gotta love the hills! :) She got a good tour of the burned out area and we stopped a couple times to gawk around...yeah, thats it, we weren't hot and tired we were just looking at the scenery.
Once we turned and came back down it was SO much better, but I stil had to stop once to get a drink and cool down a bit. I was going to go a little further down the street to do 7.5, but as we neared home and I saw 7.25...well, I decided to stop. I was good.
It was a wonderful run with Becca! I sure do miss running with her all the time, I think I'm moving to Texas :) We stretched and chatted afterward, just a good time!! Thanks for driving all the way out Becca, lets do it again soon! :)
AP: 8:24 splits: 8:55, 9:16, 9:20, 8:35, 7:41, 7:30, 7:34, 8:21 - last quarter. I slowed down that last quarter purposefully. I was tired and hot. Becca however was still shivering cold in this freezing weather compared to Texas! :)
Purple People Runners Miles: 7.25
| | | | |
| --- | --- | --- | --- |
| Night Sleep Time: 0.00 | Nap Time: 0.00 | Total Sleep Time: 0.00 | Weight: 0.00 |
Comments(10)
Urban trail loop with Becca. I miss having a go-to running buddy on call and always available! Perfect little jaunt through the trails. It was a nice 'back at it' run after girls camp break the last 3 days. Too many cougars and no one to run with :(
AP: 8:37 splits: 9:00, 9:00, 8:32,8:27, 8:30, 8:25, 8:44, 8:18
Now we're off to Park City for the weekend...maybe I'll get to see some of you up there!!

Inspire Yellow Racers Miles: 8.00
| | | | |
| --- | --- | --- | --- |
| Night Sleep Time: 0.00 | Nap Time: 0.00 | Total Sleep Time: 0.00 | Weight: 0.00 |
Comments(7)
Ran the Park City Marathon course backwards. I surprised I remembered as much as I did and didn't get lost - I won't admit I did once :)
Made it up to the big white barn at exactly 4.5, so I figured it was perfect time to turn and go back. Loved the downhill...as always.
AP: 8:44
Afternoon hike. Thought it would be 4ish miles...turned out to be 6! From base of Canyons resort up to Ambush, then connected with Mid-mountain and finished on the Alpine Lake Loop - jumped on a gondola and enjoyed the ride down. Glad I don't have 30 extra pounds to pack around all the time! My baby in the hiking backpack was a good enough reminder that I don't want to do that ever again. At least I got to take him off!!
All of my kids 11, 8, 5 hiked it with little complaint and were awesome troopers in the rain and with just Keen type sandals on. Dad gave shoulder rides to the 5yr old occasionally, but they all did an awesome job! Love my kiddos. QP and her family were the ones that tricked us into it :) but, I wouldn't have traded it for the world!

Purple People Runners Miles: 9.00
| | | | |
| --- | --- | --- | --- |
| Night Sleep Time: 0.00 | Nap Time: 0.00 | Total Sleep Time: 0.00 | Weight: 0.00 |
Comments(1)
Run on the PC trail again, but went with QP up to the soccer fields then a short loop around that neighborhood I discovered on my unspoken detour from yesterday. QP on the run and MR on the bike, a GREAT water boy.
Good times and great memories.
AP: 9:10

Purple People Runners Miles: 6.00
| | | | |
| --- | --- | --- | --- |
| Night Sleep Time: 0.00 | Nap Time: 0.00 | Total Sleep Time: 0.00 | Weight: 0.00 |
Comments(2)
Didn't get back from PC fun until midnight and due to crazy circumstances didn't get to bed until 2AM - so I slept in, and then it was my son's birthday today (big #8) and so I played with family and didn't get to any exercise. Oh well, since I ran Sunday I guess this was my rest day.

| | | | |
| --- | --- | --- | --- |
| Night Sleep Time: 0.00 | Nap Time: 0.00 | Total Sleep Time: 0.00 | Weight: 0.00 |
Add Comment
Gotta get back on the bandwagon sometime! I've had a nice, yet crazy break for sometime now and I need to just get back at it. So, I ended up with a great excuse today.

QP wanted to do a JRP run down in Lehi with Smooth et all, so I made some calls and got it all arranged for 7AM. It was about 9PM last night my husband reminded me that he doesn't have a car so he'd be taking mine to work. Crap. Now what? No car and I won't be done with the run in time for him to get to work. Well, I always had my bike. I've always thought that riding down to Lehi, doing a run, then riding back would be awesome...so, now I "get" the opportunity.

I tried to leave an hour before to give myself enough time, but that didn't happen. I had 45 minutes. I figured it was mostly downhill with just Camp Williams on the climb, I could do this. Well, I didn't. I scared everyone because I was late and they'd already sent out a search party for my dead body :) It took me an hour...so I was 15 minutes late. 17.2 miles in just under an hour so I averaged 17.4 mph.

Changed my shoes and QP threw my bike on her car rack, because they had an open spot since MR was being water boy and biking while we ran. Then with Smooth, Wendy, Becca, QP and MR on the bike we were off. It is a darn good thing that Becca and I weren't left to our own devices and we stopped and re-grouped, we both were on a roll with speed. Dang. We didn't realize how fast we were running until we'd look at our watches and slow ourselves down. We did 4 out and back South on the JRP - great run!! I loved it (after my legs switched from bike to run). QP got some good pictures of treasures along the way - hopefully she'll post them soon.

AP: 8:26 splits: 9:15, 8:23, 7:56, 9:07, 8:58, 7:53, 8:13, 7:43 - see? you can totally tell when we'd regroup and run with everyone, then we'd just slowly take off and then tempo it on and then realize what we were doing and stop to regroup again.

After the run I got back on the bike with QP and MR and rode the trail North to Redwood, with the little extra side road that they've now added about 3/4 to a full mile of that goes north just before you hit the top parking lot. QP and MR turned and went back to the car and I rode home, but decided to ride the newly paved, but unopened Mtn View Corridor. They have the stretch from the end to Redwood poured cement now, except maybe 20 feet at Redwood and 50 feet at the connection point. So, I'd have to get off and walk my bike, but it was all good. I'm sure the construction workers thought I was crazy sauce! Rode the corridor to Providence (where it is opened) and then took off up to Emmeline, and down to the Cove then home. I had played stupid somewhere along the route and started when I was stopped and stopped when I was riding, so I don't know exact mileage, but using map my run to make up what I didn't record it looks to be about 16.5 miles. A good ride home! No average, since I messed it all up.

A great start to hopefully, a great week! Oh, and my longest ride to date...except it was in two parts instead of one.
| | |
| --- | --- |
| BIKE MILES Miles: 33.70 | TTT #1 Miles: 8.00 |
| | | | |
| --- | --- | --- | --- |
| Night Sleep Time: 0.00 | Nap Time: 0.00 | Total Sleep Time: 0.00 | Weight: 0.00 |
Comments(6)
I had a huge big day planned and I was excited about it, but unfortunately it turned out to be an expensive and epic fail.
The 8 early with Chad at tempo certainly didn't go the way I wanted. I know it was a lot of uphill, but I was breathing SO hard and had to stop at mile 2 and at 4 to drink and regroup before setting off again. This, more than anything, showed me how much my slacking has taken me down a notch from where I was just a month ago. poo.
The idea was to push the pace on the uphill what I could, then tempo my goal 10K pace on the downhill (6:50). I think we did 7:50-8:00 on the uphills, then the first downhill mile was 6:46 - perfect, but then I dropped off as the downhill did. 7:01, 7:05 and then as Chad drug me widing through his neighborhood - up and flat and just little downs I fell apart. I tried to remind myself "uphill finish at Des News" but it didn't seem to help: 7:30 was the final call for the last mile of 'tempo' - whatever, I guess I just need a big kick in the pants like this to refocus my attention and training. AP: 7:34
Came home and grabbed a little nap until my sister came and picked me up to ride the tri course at the rec center with them. My front tire was completely FLAT. poo. I pumped it up trying to avoid a tire change, it was down from 110psi to 80 in just the ride (on the car) to the rec center. I pumped it back up and crossed my fingers. I got through the nearly 13 mile ride and it was at 60, but it held out.
Since my friend was then coming at 11 to do a mini-tri workout I decided to stop pushing my luck and change the tire. Perfect. We loaded up her car and headed to Blackridge. Did a 1500M swim (her first in a wet suit and she rocked it!) then pulled the bikes out. Guess whos front tire was flat...again?!? Well, one last tube and one last cartidge left to go. Fail. BUT, I finally found the tiny little thorn that you couldn't FEEL on the inside of the tire (I checked each change!). Okay, so I borrowed Steph's tube with promise of quick replacement and got her cartridge out, but there was only a gun...no cartridge (you use CO2 cartridges in a 'gun' to instantly fill tubes on the run). So, I at least had a tube. We went back to my house and got my pump to fill up the tube, but the tube had a hole in it!! Before I even put it in my tire it wouldn't inflate. Well, I called it. Obviously, karma didn't want us out on the road today. I also then missed my last 4 miles I was planning on, because by this time I'd wasted the full 3 hours we had to just swim 1500M. Whatever - FAIL!
So, I had 2 big fails today and well, I'm feeling it. Kind of down about it all. Then, I take the bike to the shop to make sure it wasn't the skins or just the thorn and the handlebars needed to be re-wrapped and I now needed new tubes and cartridges! $75 later I got out of the shop. They are going to put in the new tube so that I don't have to waste another one if it wasn't just the thorn, and I don't get my bike back until tomorrow. Oh well. At least it should be ready to go for my mock half IM on Friday.
I'm tired and want to go to bed. this stinks...just stinks, but tomorrow will be a nice little 'rest' day and I'll get out with the Newtons, so hopefully I can pull out of this funk!
| | |
| --- | --- |
| BIKE MILES Miles: 13.00 | TTT #1 Miles: 8.00 |
| | | | |
| --- | --- | --- | --- |
| Night Sleep Time: 0.00 | Nap Time: 0.00 | Total Sleep Time: 0.00 | Weight: 0.00 |
Comments(5)
Eight good recovery miles on the Urban Trail Loop with the Newtons...well, trailing far behind them all (except a couple who took pity on me and ran 'slow' with me).
Picked up the bike from the shop, and it looks like I'm good to go now. With 3 extra tubes and 4 cartridges I should be good!
AP: 8:45ish - garmin died after 1.8 miles, but Paul gave me his finish time and I added a minute-ish for his lead to the lake.

Purple People Runners Miles: 8.00
| | | | |
| --- | --- | --- | --- |
| Night Sleep Time: 0.00 | Nap Time: 0.00 | Total Sleep Time: 0.00 | Weight: 0.00 |
Comments(3)
HO-LY COW! Time for some 'honesty time' - first off, I really thought that a half iron-man wouldn't be all that hard. No, really. I mean c'mon if you can run a marathon you can do a silly swim and bike and then a half marathon. I could do it in my sleep! Well, let's just say that I got slapped upside the head by the Half Ironman today.
Brent had invited me along to this course preview and I knew it would be well worth the effort to get there and do it. So, I hired a sitter to watch the kids and invited George (who is with the Newtons and also doing the half) to come along as well. I was warned the bike would be a good 20mph average, and I knew I typically rode at 17ish, so it shouldn't be THAT hard to keep up...right? (slap)
George met me at my house, but something went wrong in communication and he didn't have swim or run stuff. So, we took a 15ish min detour to his house to get his stuff. I knew we'd be late, but figured we wouldn't need to bs at the start and so we could just jump right in the water. Which MAY have happened if yours truly had realized that the exit was PROVO Center Street and NOT OREM Center Street. Another detour. Thanks to a friendly runner we got turned around and headed in the right direction. We ended up 25 minutes late. Threw the wets suits on and headed out on the swim until the last person from the group (after they'd turned) came past us and we turned as well. I think we got maybe 800-1100M in on the swim.
Then came the bike. Holy Cow! This is where the underestimating came. In my rush I hadn't brought the fuel I'd packed on my bike and I bonked hard. About 5 miles out from the turn around I started feeling nauseated and tired. I needed something. Which after 90 minutes of hard, consistent effort is about right! duh Rachel! I pawned a Gu off a wonderful, amazing lady and we started back. My butt was D.O.N.E. however, the only way to get back was to ride on...so I did. At 1 hour I'd averaged 18.7mph, at 2 hours I'd averaged 18.25mph, and then I crashed again. This time coach Keena came to my rescue and shoved some Gu Chomps in my hand. A welcome treat! The last 10 miles of the ride were just crazy. I'd stayed with one lady for probably the last 15 of the ride and we had good chats and then got lost together on the way back and had to pull out our written directions and follow them backwards! Grateful I had them!! I'd lost George when I'd caught up to and stayed with this lady, but luckily he had a partner in crime as well that he got lost with :) My final average was 17.8mph which is still not too bad, but I know we slowed down and stopped a LOT more than we should've those last 6ish miles because of being lost. So, I'm gonna say I did a solid 18mph ride. Which, for my first LONG bike ride is pretty darn good.
In some confusion of transitioning to the run I fell over on my bike when I was stopped and scraped up my knee and leg - SO embarrassing! I rode my bike back to the car in shame and waited for George to come in from the ride, so we could get just 6 miles of running.
A quick change (and LOTS of water) later we were off on a nice hot 11AM 6 mile run. I was SO grateful for the shady parkway!! And lucky that it wasn't horribly hot like a couple weeks ago. I was surprised that the first mile came in at 8:45 and George was keeping up well! At our turn around on the parkway I waited just a bit for George (he had the battery in his watch changed and they didn't waterproof it! So, after the swim his watch was waterlogged and so I didn't want to abandon him) and then we made a quick bathroom stop. All the water from the bike needed to be released. Then we finished off the run and I was VERY surprised to see the AP at 8:17. Wow, it certainly didn't feel that fast! splits: 8:35, 8:15, 8:17, 8:17, 8:04, 8:16 - hmm, most consistent run in my life EVER!
Then we were done...and D.O.N.E! This Half IM is going to be a lot harder than I had anticipated. I know I will finish, but 6 hours of pushing yourself physically is hard work. I know that sounds dumb, but it really is that hard! You don't know how hard it is until you've actually gone out and done it. I'm telling you - I underestimated the half IM! Take my advice and don't do it! :) It is a monster...not to be messed with. Okay, mess with it, just don't underestimate it. I'd say it is like someone who has only ever run 16 miles saying "oh yeah, I could do a marathon and qualify for Boston."
I need to have my bike 'fixed' - well, just adjusted to ME. A new seat, for sure! and I need to fuel better on the bike. I think if I anticipate the fueling instead of using reaction fueling (when I've hit a wall), I will do better on the bike. Also, the heat...ugghh, running in the heat. I'll need ice at every stop :) and I think I may take my water bottle...I was told they don't have a lot of aid stations.
I am just SO SO SO grateful that Brent allowed me to come today. It was an eye opener and I have learned a LOT that will help me tremendously over the next month to prepare. Thanks Brent!!!

| | |
| --- | --- |
| BIKE MILES Miles: 56.00 | TTT #1 Miles: 6.00 |
| | | | |
| --- | --- | --- | --- |
| Night Sleep Time: 0.00 | Nap Time: 0.00 | Total Sleep Time: 0.00 | Weight: 0.00 |
Comments(7)
Kelli and I drove up to Park City and met Smooth for a nice little tour of the marathon course. We did miles 11-20 then looped back the short way to the car.
Some runs are hard workouts, some runs tax your body, some runs are quality time in your shoes, some runs remind you why you run. Today, I remembered why I run and how much I LOVE being with these lovely ladies! I could've spent all day out there...okay, maybe at breakfast in the AC and with endless french toast coming my way, but still :)
I'd forgotten what an uphill drag that course is. I guess I'm just always having so much fun with Smooth I just don't notice. I can't wait for it again this year! Just a ton of FUN! I seriously have no agenda for that race, but a good time with Smooth - and it never disappoints.
We got into some heat the last 5ish miles, but my fatigue may have been due more to the workout yesterday and lack of water and fuel than actual heat. Either way, a short stop at a convenience store solved all the problems (Gu shot too!). We just had a wonderful lovely run and I can't wait to do it again!!
Thanks Smooth and Kelli for a wonderful morning, I loved it!!
AP: 9:40

| | | | |
| --- | --- | --- | --- |
| Night Sleep Time: 0.00 | Nap Time: 0.00 | Total Sleep Time: 0.00 | Weight: 0.00 |
Comments(8)
This is going to be a meager run week for me...but hopefully worth it!
I'm racing DesNews tomorrow, so I didn't want to do a hard run, but wanted to get the body moving. So, I opted for our classic Monday AM ride. My house to Herriman HS, then back up Rose Canyon, down to Main St, around the Kennecott loop and back to the HS on 11800S then home again. A good, challenging ride. Averaged 15.5 mph - not too bad for the hills.
Now, if my legs will rest and work for the race tomorrow...uugggh, I hate racing nerves!! AND short races, but I need a new 10K PR. Your half marathon pace shouldn't be 7 seconds faster than your 10K pace - this MUST change....

| | | | |
| --- | --- | --- | --- |
| Night Sleep Time: 0.00 | Nap Time: 0.00 | Total Sleep Time: 0.00 | Weight: 0.00 |
Comments(9)
Race:
Deseret News 10K (6.21 Miles) 00:44:22, Place overall: 67, Place in age division: 14

I had some high hopes for this race. Despite the last month of lack luster training due to loss of mojo I had finally started feeling better and like I was getting it back. I even woke up with NO heel pain from PF (I had a touch, but nothing horrible or to even mention honestly) so, I knew this was going to be a great day.

I got the kids up (4:10AM!) and drove to my mom's home to drop off kids and pick up my sisters. We were a little late leaving their homes, but I was grateful when we got there with 20+ min to spare. Enough for a pop stop and a little jog to warm up the legs and lungs.

Took a gu a few min after they said "10 min to start" then found Paul and lined up near the front! I was going to do this!! Things were going wonderfully until mile 2.5ish (I have splits, but as you'll see have yet had the motivation to get off my butt and remember when I am off my butt to get the garmin and plug it in. Also, I was in biking mode the first .41ish of the run and had to change it while running - stopped it instead of lapped it at mile 1 - the list goes on and on...so I know I'm not getting much out of it anyway).

As I got to 2.5ish within about 3 steps I encountered SEVERE heel pain. I felt like my fascia was going to rip off the bottom of my heel. I finally stopped after mile 3ish and stretched about 10 seconds to see if that would help. It did a little. I was SO ready to hit the parade route after stopping 2 more times to stretch. I knew it would take my mind off the horrible pain.

No such luck! I was SO depressed that they turned us early this year (first time in my 5 runnings of this race) on 300E. I whined inside my head the whole time "why did you take away my parade route! That is my favorite part! Where are we going now? I want my parade route back!!" I guess it kind of got my mind off my aching R quad from running one legged to try and take the pressure off my L heel - and the L foot pain. Then, we merged back in on like 700S and I could see the runners going up 900S, so I knew we were finally back on the right course.

I finished off the race and did what I could. Around mile 4 or 5 I'd determined this heel thing wasn't going away and that I needed to change my goals to just finishing in the best time I'd be given in this situation on this day. People had been passing me like crazy the whole race and it kind of broke my spirit, but I did my best given the circumstances.

I finished and was surprised to see the clock only at 44:15ish, I thought for sure I was more like 48+...but due to garmin issues I had no real idea where I was! I had to wait for final official results to see my finish time. I know on a good day I could've pulled a 42:xx here, but it wasn't today. I will have another day, there will always be another race.

After my finish I walked back to run in with my kids doing the 5K. My 8 yr old came in first and I ran the last .5ish in with him, then walked back and saw my 11 yr old daughter coming. Ran her in, turned and walked back for my 5 yr old and he was with grandma and the baby in the stroller. Then, I ran him in and waited for the stroller crew just behind us. I was SO proud of my 8 yr old! It isn't timed, but I think he probably ran under 30 min and he was the first finisher from the family with his 'twin cousin' just 10 feet behind. When I was waiting for him I said "C'mon David!!" (not wanting to walk/run any further than necessary) and the whole crowd around me started cheering "YAY David! You can do it David!" It really energized him! The crowd really supported the cute little guy running his heart out at the end. The same thing happened with each of my kids and it was amazing how it energized them! Yup, we get a lot from the crowd!!

After we got settled near the marathon finish line I finally hobbled over to the med tent and got an ice bag and an ace bandage. I sat there and got to watch the awesome first finishers come in and congratulate them! I love knowing all the cool fast people :) I sat and waited for Becca, as the clock ticked on I got more and more guilt. I'd told her I'd run back a few miles and run her in. She was going past her goal time and I just started crying! I felt SO bad, she was running along having a hard time and waiting and looking for me and never seeing me. I was broken at the finish. I was probably feeling bad for myself too...but it was a mixed bag.

I finally saw Becca come in and I just started bawling again. I was happy to finally see her and to see her finish! We all sat and chatted for a while, but when I had the stroller I felt like I was in the way, so I noticed the massage line was gone...I went and got one. I had them work just on my calf to try and release my heel a bit. Even though it didn't seem to work, it felt good either way :) Becca shortly came and joined in and bye-wing and her family left.

I had to sit and wait for my mom and bye-wing to bring car seats to me and Becca was nice enough to go on the wild goose chase for the bus and sit and wait and drag car seats and kids on the bus to get back to my car! AFTER she'd finished a marathon!! Between me gimping around and her post-marathon legs and 4 kids I'm sure we were a good side show :)

We ended up at Einsteins and then chatting in the parking lot for a while, it was wonderful! I finally got home and crashed. I was SOOO tired and exhausted. My older boys didn't sleep, but the rest of us did. Then...I woke up.

Even before I put my feet on the ground I wanted to cry. My little foot pain was HORRIBLE. I was zero weight bearing and I spent the next hour crying and bawling as I tried to shower and get ready for my nephew's baptism. I also had my 4 kids to get ready too. It wasn't pretty...at all. I grabbed my grandma's cane to help me be mobile. I can walk on the ball of my foot...but that is all. No heel weight. Craig finally got home and helped me pack up and get off. We were only 20 minutes late. Luckily, my family loves me and waited patiently for me. I tried to just sit and relax the rest of the night, but kept watching the clock waiting for my motrin shot again.

After dinner and fireworks it was again 11PM and I was taking my niece to the airport at 4:20AM. Another night of no sleep. I couldn't wait until 8:30 to call the doctors office.

Awesome Elixers Miles: 7.00

| | | | |
| --- | --- | --- | --- |
| Night Sleep Time: 0.00 | Nap Time: 0.00 | Total Sleep Time: 0.00 | Weight: 0.00 |

Comments(9)
Got up at 4:10 and then just a minute later my cute neice says "Rachel...It is almost time to go." She was worried I wasn't getting up :) What she didn't know is that I just had to brush my teeth and I was out of there - and hoping my foot wouldn't hurt when I stepped on it (wishful thinking, but it did feel better!) We got on our way and I was SO tired! Talking to her was the only thing keeping me up. Once I saw her through security I went back to the car...crawled in the back seat and slept! I slept for over an hour and paid my airport fee for it, but any fee was better than what I would've paid with if I'd driven home...well, tried to.
After I got home I went to sleep again, then got up in time to get my 8 and 11 year off to their first day of 3rd and 6th grade! This is last year I get to send my daughter to elementary school...CRAZY!!! Before I left I'd called Dr Brinton's office and he was out until Monday...crap! So, I asked for a doc with sports injury specialty and they said they'd get me in at 11:00. Perfect. Got the kindergartner to his testing appointment, picked up the sitter and headed off.
Well, the doctor was a douche bag. He told me to rice it and stay off it for a week - with no help of doing so. Just rest it for a week. He said it was a tear of the Plantar Fascia (hello...I'd figured that out!) and to rest it for a week and come back if there was still pain. Really?!? How exactly do you expect me to keep my foot up for a week with 4 kids - one of them a 2 year old?!? I asked him to help me with something I didn't already know (respectfully). He said he could put me in a nursing home for a week, or admit me to the hospital, or give me a wheel chair (um, I have a 2 story home!) or put me in a full leg cast - IF I wanted it. Also asked what kind of pain meds I wanted. What the heck?!? I wasn't there for a band-aid I wanted some answers and some help as to how to be functional in daily life. How to heal from here, how to get back quickly, how to heal in the best way possible to get back a soon as possible. He couldn't answer any of them. He finally suggested a splint and said I could get crutches instead of a cane without a rubber bottom that was 10+ years old and made me look like an 80 yr old woman - thanks doc. I was SO frustrated and cried the whole last 10 min or more of the appointment trying to communicate what I wanted - not just a band-aid fix, but some answers to what was wrong with me and how to best and quickly heal.
The nurse came in and did a splint on then told me they didn't have any crutches in their office or in the hospital pharmacy (the office is at Riverton hospital), but I could pick some up at Smiths, most likely. She then came back with a wheel chair to take me out to my car. I was SO frustrated I stood up, grabbed my cane and said "I'm fine!' "you don't want help with the wheelchair?" "No! Are you going to follow me to Smiths and help me in there so I can get crutches?" "well, no" "then I will do it on my own...thanks!" and I walked out.
I went to the car and cried and screamed and cried some more. I called my sister (QP) because I knew she was stuck in a car driving and couldn't avoid me. She was nice to commisserate with me and suggest I just call my PT. I'd called him earlier, but he hadn't returned my call yet. So, I tried again. He was there in appointments and I broke down (surprise, surprise) to the receptionist and she said she would have him call me asap. Well, when I called my sister back I decided to just drive over there and see what I could do. My babsitter was SO nice and said she was good to just hang out...love her!
When I got to TOSH, I contimplated stopping at the desk, but decided to be bold and self-centered and just hobble on back to his corner. I saw Joel and started crying and babling all over again. So, basically...I cried my way in. He actually TOUCHED my foot (the doc didn't even touch my foot, I know they're ugly...but c'mon!) and I finally got some answers and hope.
He thinks that the swelling is more painful for me than the injury to the PF. So, if we can get the swelling down then I should be able to walk pain free within 72 hours. This is good news for Spudman on Saturday! He said it is impact caused not calf tightness caused, because I can rise up on my toes pain free. This means that when the swelling is down I can bike! He did a cold compress thing on my foot while elevated to help swelling, then did a steroid patch with a battery and light on it...crazy weird! He also told me to keep the foot at 90%+ with a splint (doc said just neutral foot) to aid the calf and PF in healing properly to be able to return as quickly as possible once pain free. See?!? ANSWERS!
So, 4 hours after my journey began I finally got to Smiths and picked up my crutches and splint (also Papa Murphy's for a work-free dinner!). I got home in time to see the kiddos get home from school, take the sitter home then sit and enjoy first day of school stories and papers as I sat on the couch.
I'm still sitting here and hubby is helping me all night. Kids are in bed and hopefully, asleep. Now, I'm going to get to bed and heal. So, don't expect many other posts from me for a while.
As far as Spudman goes, PT gave me clearance to swim and bike, but I can ONLY walk the 10K if I am pain free Saturday morning. No running allowed. And I have to get some soft arch supports before that as well.
As always, I'll get through this. With some hope from the PT I am no longer in the bawling mode and am ready to tackle this and get it gone. Now, if only my house will survive me sitting for another 2 days... :)
| | | | |
| --- | --- | --- | --- |
| Night Sleep Time: 0.00 | Nap Time: 0.00 | Total Sleep Time: 0.00 | Weight: 0.00 |
Comments(8)
walking on the heel today. not 100% pain free, but I can walk on it which feels amazing to not have to hobble around. I hope this bodes well for continued quick improvement. As of right now I am planning on doing the swim and bike of Spudman tomorrow competitively and then walking the 10K as per Dr's orders. I have a friend coming up to watch and cheer me on, so she said she would walk with me. This will keep my brain from convincing my legs they should run. It will be a fun race regardless of the fact that I've been dreaming of having a spud to add to my collection for months now. poo. oh well. Bigger fish to fry down the road and I don't want to mess things up even more. I will be a good patient.
| | | | |
| --- | --- | --- | --- |
| Night Sleep Time: 0.00 | Nap Time: 0.00 | Total Sleep Time: 0.00 | Weight: 0.00 |
Comments(8)
Race:
Spudman Triathalon (31.94 Miles) 02:43:33, Place in age division: 24

What a crazy week! I woke up Friday and refused to use my crutches. It wasn't too horrible to walk on, just felt like a bad case of PF, not like I was going to die when I walked.

I got ready and headed off to Burley around noon on Friday, met friends in Tremonton and then headed up. Got everything set up and ready at the transitions, all the walking on grass and just walking around really kind of bugged my foot - especially the tendon on the outside of my foot, because I was compensating from my injury. So, when we went to wal-mart to grab a few things my friends decided I needed to sit in the wheel-chair. It was SO stinkin' squeaky!! I just laughed and laughed the whole time. Especially when I remembered I needed yogurt for breakfast and it was clear on the other side of the store! Oh memories I will never forget!! I love these girls and Burley!! Steph, Jen and I have been friends since...well, forever. Steph did the tri and Jen was there just to have fun with us. We'd all go up to Burley as teenagers and be delinquents up there for a week during the summer - Steph was born there and her grandparents live there.

We grabbed some good drive-in food and shakes (of course) then crashed at grandma's for the night and caught the end of opening ceremonies.

The next morning came too soon...as always. Jen was our chauffer and took us to our transition stations to get the final touches arranged and tires on the bikes pumped up, then she took us to the start and we squeezed into our wetsuits - ready for the start!! I'd KT taped my foot to make sure I'd get some extra support, and put some arch supports recommended by the PT in my shoes. I was ready. The tendon on the outside of my leg was bugging me more than the heel! But, I knew I'd have the swim and bike to warm it all up. Pain point was the name of the game for the day.

We got in the river with about 7 min to our wave start. I could tell the KT tape wasn't going to last the swim, but I had hope. Then, before I knew it we were off! I've never been so molested by strangers! :) kicked and grabbed all over, but nothing horrible...just worked my way through the crowd of swimmers and didn't drown! There wasn't anything good to sight - no bouys or anything, so I just stayed with the crowd. Well, at one point I was clear in the middle of the river almost past the boat - oops. Swam more to my left. Well, then before I knew it I hit a rock with my hand! I was on the shore - oops. So, a little lost time on the swim due to not swimming a straight line. Next time I will improve that one! Hit the right shore to exit on and swam as much as I could then stood up in 10in deep gravel - yuck. got through it and limped to the bike. KT tape did come off about 1/2 way through the swim!

Swim time: 21:11 (.93 miles), 19th/94 --T1 time: 3:32 (58 seconds slower than the fastest) 31/94 -- yeah transition time could've been faster, but I enjoyed chatting with Steph! :)

Pulled the wetsuit off put bike stuff on and took off. Steph came when I was about 2/3rds of the way done getting out of there. I did slow down my pace and take a second to chat and say hello before I took off on the bike. I carried my bike the whole time on the grass on recommendation from a friend who said a TON of people get thorns from that transition area. Set my bike down on the gravel and I was off!

I didn't get it. SO many people seemed to just go slow at the first. Was I making a mistake pushing now? Well, if I was whatever! I didn't need to save anything for the 'run' so the bike was it for me. I had to put it all out on the line here. Passed people like crazy on the bike and I loved it! I felt like I was hauling. There were a few groups of people (like serious pros!) that passed me on the bike, but they didn't just pass me - they BLEW past me! Crazy how fast they go! I was over 20mph and they passed me like I was standing still! I leap-frogged with a couple ladies at the first, they both passed me at one point, but I caught one of them about 10 miles out from the finish- I never did see the other one, but only one passing? yeah, I'll take it! I'm still just a wee baby on the bike. Jen and Steph's family had gone to where the bike crossed their street and cheered for us, it was a VERY welcome sight! Oh, and blocks in Burley aren't like here. We went to 600S then to 600E (from 50E) I swear that was like 15 of the 24.5 miles!!! Mental game for sure. Oh, and I really do need a new seat - butt hurt!

Bike Time: 1:13:46 (20.21mph average) 8th/94 (only 3:30 back from top finisher) ---T2 time: 2:11 (24th and 48 seconds behind 1st; WAAAY too much whining and crying while I put my shoes on!!)

Made my way into the 2nd transition, racked my bike and then started whining. I didn't want to walk the 10K. I wanted to run. This is MY sport of the tri. This is where I excell, this is MY time. But, I couldn't. I couldn't do it. My stupid broken body made me have to take a rain-check on the race part. I should've been happy I could just be out there, but I wasn't. I wanted to race. The bike had put it in me and made me realize I was really doing a great job. Now I had to just be done and give up competing and it killed me to the core. KILLED me!

With the inserts in my shoes I actually didn't feel a ton of pain in a slow jog, but the tendon on the outside of my leg hurt more than my heel when I'd walk. So, I took a 9:30-10mm pace. I quickly caught up to Kevin - my gimpy friend :) He had a knee brace on and when I passed him he was readjusting it and I said "Man, I guess the gimps should stay together!" He laughed and said he was supposed to walk the run too. So, we 'walked' together! He was going in for his 3rd ACL replacement on Tuesday. After exchanging injury stories and getting into the flat stretches of the run we just got into a groove. Passed mile 3 at 30:30 - with our couple walk breaks we were doing just fine on our little 'walk'. Steph passed me here and she was running strong! I was so proud of her - this was her first tri and she was going to kick butt!! I think I probably could've finished faster, but it was SO nice to have company that would commiserate with the annoyingly SLOW pace on a race and being injured it was worth the couple walk breaks Kevin needed to take to hang with him. He did make a stop just a quarter mile out from the finish and I told him to finish strong and I'd see him at the finish. I thnk he ended up only 20ish seconds behind me. My finish time for the run was 1:02:51 - so depressing!!! But, I've got bigger fish to fry and have to save the foot. Jen yelled at me as I was coming in and said "you aren't supposed to be running!" I said back "this isn't running!" :)

So, my final finish time came in at 2:43:33 - blech. I was 24th in my AG, Steph finished 12th!! I really think that I could've easily finished the run 15 min faster on a normal day. Looking at that I would've taken 5th in my AG and 1st in Athena. Poo. I know it all depends on who comes out on what day, but that dumb slow run at the end really frustrated me. REALLY. I'm still kind of hung over and frustrated about it, but whatever. I need to recover and then I'll be able to kick it hard at the half IM and take my rightful place in a race, right?

I was really good about pain on the run, and it was worse walking around Friday than at any point during the run. So, I let the pain determine the pace. At the end when I'd left Kevin, I did try to pick up the pace, but the foot rejected that idea so I slowed down and all was good again. So, even though I didn't walk, I really did let my pain scale rule what I did. The foot actually didn't feel any worse after the race either.

We went back to grandma's and showered and then stopped by Jack in the Box on our way out of town for lunch and headed home. I was back by 5PM! My friend across the street was having a reception for her daughter at her home Saturday night and so I went over there and started helping get stuff recovered after the wind/rain storm that had just passed through. I spent the whole night over there helping with it all until 1AM. My foot was sore after being on it all night and forgetting to put my splint on when I went to bed. But, again the tendon on the outside hurt more Sunday AM than anything. After the race I put my insoles in my new Altras I got at DesNews and I've been wearing them around for support since, and it all seems to be helping. I hope just one more down week will be enough to get rid of all this!! Fingers crossed.

| | | | |
| --- | --- | --- | --- |
| Night Sleep Time: 0.00 | Nap Time: 0.00 | Total Sleep Time: 0.00 | Weight: 0.00 |

Comments(15)
nada - a big pity party day for me.
| | | | |
| --- | --- | --- | --- |
| Night Sleep Time: 0.00 | Nap Time: 0.00 | Total Sleep Time: 0.00 | Weight: 0.00 |
Add Comment
Didn't want to get up early, so I went to the gym. Haven't been there or taken biting Fartlek there for over 6 weeks!! It was nice to sleep in.
Spin class. Allison kicked my trash good. I stayed as long as I could to get over an hour of spin in. Probably a good 18ish miles worth. I had a nice big sweat puddle to mop up afterward - excellent!
Did a weight set afterward. Lots of stability stuff while doing arms, legs, shoulders etc. then did transverse abs, planks and side planks. Then a good stretch out. Oh, I also did a 2 min cardio burst (like a sprint) after 2 sets of groups of exercises. Probably 4 or 5 sprints.
I am resolving to not be a slug and not take this injury lying down. Honestly, ever since I got my BQ I've had a hard time staying motivated for anything. I need to realize I have a half IM coming up soon and I know I've got the running under me when my foot heals, but I need more bike. So, why not get it in now? c'mon Rachel. Chin up, stop eating yourself into a mind oblivion and having pity parties because you can't run. Get off your butt and just DO IT!
| | | | |
| --- | --- | --- | --- |
| Night Sleep Time: 0.00 | Nap Time: 0.00 | Total Sleep Time: 0.00 | Weight: 0.00 |
Comments(2)
| | | | | | |
| --- | --- | --- | --- | --- | --- |
| OEOHFPPE Miles: 14.00 | BIKE MILES Miles: 153.70 | Purple People Runners Miles: 38.25 | TTT #1 Miles: 58.20 | Inspire Yellow Racers Miles: 8.00 | Awesome Elixers Miles: 7.00 |
| | | | |
| --- | --- | --- | --- |
| Night Sleep Time: 0.00 | Nap Time: 0.00 | Total Sleep Time: 0.00 | Weight: 0.00 |
Debt Reduction Calculator